ATMOS
The ATMOS series elements are heavy duty air heating elements, designed for commercial vehicles (e.g. buses) and other industrial applications. The elements employ innovative technologies to provide a high heating power at high voltage, while being rated to IP65 (with DBK harness system).
In addition, the elements are engineered for long lifetime under the most demanding conditions. This type of heater features a wide height to width ratio, height 90mm x width 250 – 650mm (customizable). The element is designed with a degree of flexibility in its structure, and should be built into a rigid mounting frame. A customized harness can be provided e.g. with automotive style wiring, and optional rubber seals for a fully IP65 rated solution.
Customizable assemblies including stainless steel mounting frame and harness can be provided. Banks of elements can be used, meeting a wide variety of installed sizes and powers, e.g. 12kW, 24kW.
Features: (Please see Application Notes for full feature descriptions)
Power options 2kW – 6kW (5m/s @ rated voltage)
Voltage options 400 – 600V
Airflow (250, 450, 650 CFM recommended for 2, 4, 6kW)
Protection Class II
Provision for temperature signalling thermostat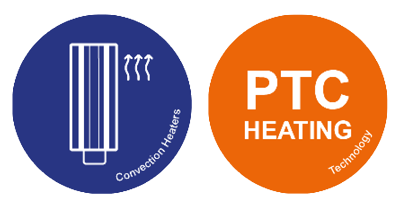 DOWNLOADS